Memoir
Filtered Water, Organic Pomegranate Juice, Organic Apple Juice, Organic Fermented Ginseng, Organic Blueberry Juice, Organic Pineapple Juice, Organic Fermented Sage, Organic Ashwagandha Extract, Organic Lemon Balm, Organic Lion's Mane Mushroom, Organic Lavender Extract
Memoir
Filtered Water, Organic Pomegranate Juice, Organic Apple Juice, Organic Fermented Ginseng, Organic Blueberry Juice, Organic Pineapple Juice, Organic Fermented Sage, Organic Ashwagandha Extract, Organic Lemon Balm, Organic Lion's Mane Mushroom, Organic Lavender Extract
---
---
Cognitive health on your mind?
Like a morning crossword puzzle, Memoir is a small, everyday step towards looking after your long-term cognitive health. Five functional plant ingredients—ginseng, sage, ashwagandha, lemon balm, and lion's mane mushroom—are the brains behind this Wellness Shot's neuroprotective properties.

When taken on a regular basis, Memoir's plant actives work cumulatively to offer benefits for later-life cognition as well as protection against neurodegenerative disease.

Ginseng's key active compounds—ginsenosides and gintonin—have been shown in clinical studies to have antioxidant, anti-neuroinflammatory, and neuroprotective properties. Additionally, ginseng stimulates the release of acetylcholine—the neurotransmitter associated with learning and memory.1, 2

Sage (a.k.a. Salvia, from the Latin "to heal") contains compounds called terpenes, which have been shown to improve certain aspects of brain function and cognitive performance. The herb also has antioxidant properties, helping dampen the effects of oxidative stress on the brain which are linked to neurological and mental health disorders.3

Ashwagandha has been used in Ayurvedic medicine for thousands of years, primarily for memory enhancement and cognition improvement. In modern clinical studies, people who regularly took ashwagandha showed improvements in both immediate and general memory, focus, cognitive functions, sleep quality, stress management, and information-processing speeds.4

Lemon balm has been shown to improve cognitive performance and mood. Lemon balm extract acts on receptor binding properties, which in turn, have shown benefits for improved cognitive effects such as alertness and memory.5, 6

Lion's mane mushrooms have neurotrophic properties, promoting the growth of neurites, which develop into axons and dendrites (the connectors between neurons in the brain). Known as neuroplasticity, this "brain rewiring" further helps protect against cognitive decline.7

Tasting Notes: pomegranate-forward with a tart berry and pineapple finish, Memoir can be enjoyed as a shot or diluted into hot or cold water.

A Note on Fermentation: Fermentation increases the bioavailability of functional compounds present in the ingredients by up to 3 times, making them much more readily absorbed by the body.8

Recommended Dose: Do not exceed three Memoir shots per day.

1 https://www.ncbi.nlm.nih.gov/pmc/articles/PMC6173364
2 https://alzres.biomedcentral.com/articles/10.1186/s13195-018-0380-0
3 https://www.ncbi.nlm.nih.gov/pmc/articles/PMC5318325/
4 https://pubmed.ncbi.nlm.nih.gov/28471731/
5 https://pubmed.ncbi.nlm.nih.gov/12888775/
6 https://pubmed.ncbi.nlm.nih.gov/12810768/
7 https://pubmed.ncbi.nlm.nih.gov/24266378/
8 https://www.researchgate.net/publication/288932273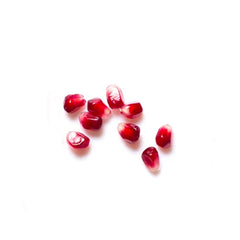 Pull out the pom poms + cheer for this polyphenol-rich fruit
Serving Size: 60 mL

| | |
| --- | --- |
| Calories 25 | |
| Total Fat 0 g | 0% |
| Saturated Fat 0 g | 0% |
| Trans Fat 0 g | |
| Cholesterol 0 mg | 0% |
| Sodium 1 mg | 0% |
| Total Carbohydrate 5 g | |
| Dietary Fibre 0 g | 0% |
| Sugars 4 g | 4% |
| Protein 0.1 g | |
| | |
| --- | --- |
| Potassium 40 mg | 1% |
| Calcium 10 mg | 0% |
| Iron 0.3 mg | 2% |
*Percent Daily Values are based on a 2,000 calorie diet. This organic Booster may contain traces of tree nuts.
Shelf Life:
Guaranteed 107 days on delivery.
See label for best before date.
Keep below 4°C.
---